I am a spring summer girl. I like warm days and light nights and wearing dresses, paddling in the sea and reading my book in the garden. However, the darker days do mean some fantastic trends. Personally, I think Autumn is the best season for fashion. It's so easy to look put together and chic at the this time of year – it's not so cold you look like a duvet, but it's not too warm for those wool coats and cosy jumpers!
This season there are some amazing trends, from Heritage Fashion making the most of tweed and wool, to all red outfits and jewel tones of purple and green. However, I've been trying to shop less recently and think about the environmental impact of fast fashion. Therefore I've compiled a list of some pieces I would like to invest in that will not only last this season, but many more Autumn Winters to come. Some of these pieces are from websites specifically for ethical clothing, some are slightly higher end with traceable manufacturing or are the types of investment pieces that would mean buying fewer items, therefore saving on the environmental costs of repeatedly ordering items online. Although they aren't cheap, I want to start investing in just a few pieces each month rather than buying lots of trend led pieces that only last a month or two. It's something I already do a bit, but I want to commit to this more.
So, here are my favourite, lust worthy pieces for AW17!
1)Sezane (Knitwear)
I recently discovered Sezane through social media as there was an article about the first ever Parisian online shop. Basically, France is unlike the UK in that online brands haven't developed there in the same way. Step in Morgane Sezalory, who began selling her vintage finds to friends. When they sold out instantly she decided to create her own fashion brand. But this isn't just an online shop. There are four collections a year and these are put into beautiful online lookbooks that look like a particularly glossy fashion magazine. Plus, items are designed, sourced and made in the best place for that particular item, for example knitwear made in Italy. The prices are similar to Ted Baker and Whistles and the quality is phenomenal. Plus, spend over £250 and there is free delivery.
I love the knitwear, for example these two jumpers which are £90 each:
This red jumper just so happens to be perfect for AW17 as red is a major trend (although it does come in an array of other colours, including neutrals). I love the v neck and tie up detail which will be super flattering.
This ribbed jumper is the perfect all day, every day piece of knitwear. Pair with jeans for casual every day wear, or you could style with a leather skirt and heeled ankle boots for a more impactful look.
2) Michael Kors (Bags)
Michael Kors always has amazing colour options for every season. So far I have always chosen quite neutral colours when buying bags there, with a Rose cross body bag and a nude pink backpack. This season though, I am loving the purple, khaki and studded bags in his collection. I think that all of these colourways are very wearable and perfect for an AW bag. I'd probably choose khaki because I feel as though it is a colour that comes back every Autumn!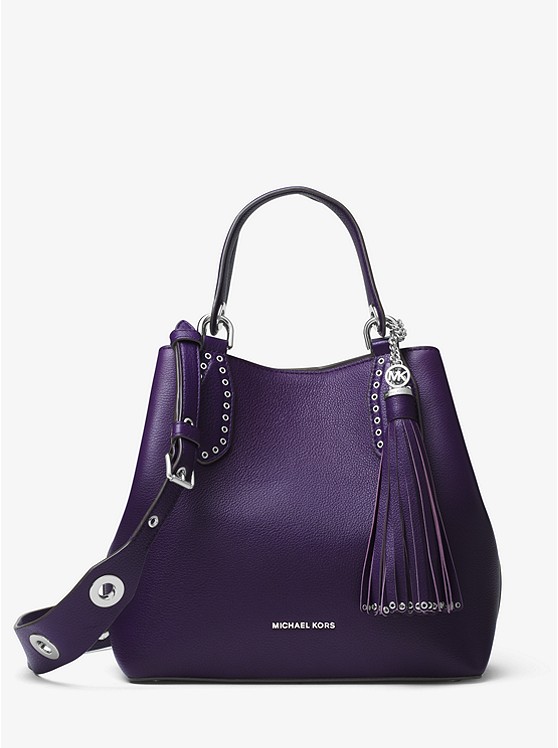 The Brooklyn Medium Tote (£390) in Iris is a beautiful leather bag that will fit everything in. I love the different strap options, whether you want to carry this on your shoulder or the crook of your arm. This is a great option for winter as you can wear black everything and use this as a pop of colour.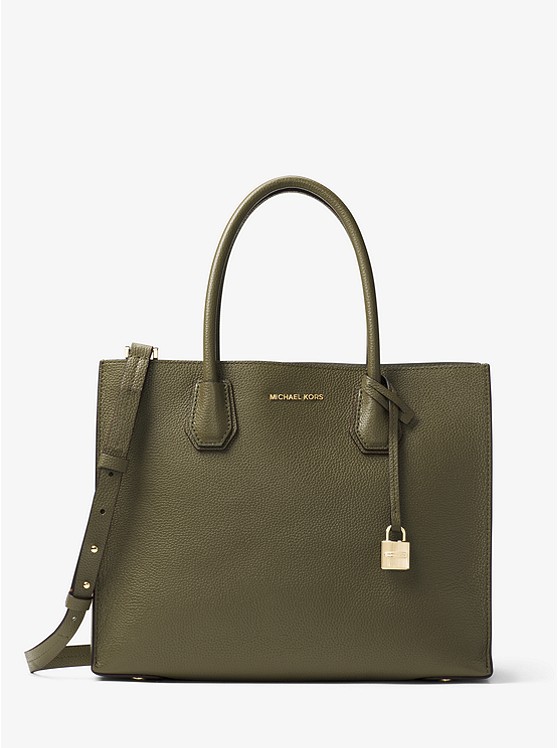 I am a big fan of the large mercer totes (£315) as they always look smart and come in a wide range of colours. I love this Olive colour (looks Khaki to me!) as it will go with pretty much everything. I think a dark floral dress, oversized biker and this could be a great, go to, Autumnal look.
3) People Tree (Yoga Clothes)
Perfect for a wide variety of trends, People Tree has long been a go to brand for the environmentally conscious. They do fantastic cotton pieces and I am particularly excited to get some new yoga gear from them. Simple black yoga clothes in soft cotton sounds great to me. I have never felt comfortable in brightly coloured yoga clothes, particularly as I go to classes after work in the city centre, so these ethically made, chic black yoga clothes are perfect for me!
Organic cotton leggings, £38
Organic cotton crop top, £20
4) Thought (Unique Clothing Pieces)
Relatively new to the game, Thought has recently been introduced to Fenwicks in Newcastle, which is how I discovered them. Using sustainable, organic and ethically sourced materials to make stylish pieces in beautiful prints and classic shapes, Thought is a brand for women of all ages.
I love pieces that can be restyled in a hundred different ways and this pinafore dress (£59.90) is definitely one of those! Made out of organic cotton, it is a great layering piece and the length makes it perfect for both work and casual weekend styling.
This beautifully embroidered top (£69.90) is made out of hemp and cotton. With the neutral palette going with pretty much anything and the long sleeves meaning you can sneak a thermal underneath in winter, this is a perfect going out, winter blouse. Embroidery is still a huge trend and I love that this has an unusual colour combination. Plus, rather than the cheaper fast fashion options out there, this is an investment piece which will still look beautiful in a few years time!
5) French Connection (Wear Forever Dresses)
I'm going to be graduating this December and I am slightly concerned about looking glamorous in the freezing, Newcastle weather. I was originally going to wear trousers, but then I spotted a dress in French Connection that I think will look beautiful with black tights and heeled ankle boots. I love French Connection dresses, they fit beautifully (I tend to size down) and last for years. I have dresses that still look brand new that have been in my wardrobe for at least seven years!
The Vilmer Devore Short Sleeve Dress (£140) is a beautiful velvet dress. It nips in at the waist but has a classic high neckline and short sleeves. A floral print on a black background is timeless, as is the cut of the dress. Wear with bare legs and a court heal for dressy occasions, black tights, ankle boots and biker for more casual day to day wear, or with black tights and heeled ankle boots for somewhere in between!
This Patty Drape Dress (£140) is the same classic shape but in a suedette material and this beautiful dusky blue colour would be flattering on all skin tones. Easy to style, this piece would sit well in any woman's wardrobe for years!
I hope you've enjoyed my AW17 wish list, let me know which investment pieces you've got your eye on this season.
Speak soon,
Hannah
X